WCC – The qualifiers
As dawn broke on the morning of John and I's qualifier round on White Springs, we couldn't help but feel nervous but also confident at the same time. We knew this was going to tough as there were some good angler competing so we hope that the draw would be kind to us. After a quick pit stop for some supplies we headed to the lake, upon going through the entrance we noticed all the other competitors, we said our hellos and wondered down to the lake.
We already knew in our heads where we needed to be based on latest captures and previous knowledge of the lake. The draw was due soon so we trekked back up to the club house in readiness for the muchly anticipated draw.
We all gathered around nervously waiting for the first number to be pulled out of the bag. However number after number was called and ours wasn't nowhere to be seen, we ended up coming out 8th but luckily we ended up with our second choice peg so we where very happy.
We drove down to the lake buzzing with excitement; we chose a peg that gave us a lot of water but more importantly access to a few known feeding spots.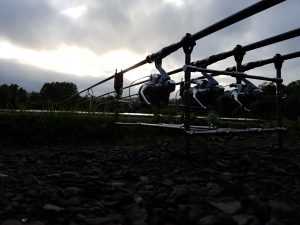 We had 2 hours to get set up and get the rods clipped up. We done most of the prep the night before so we had a few solid bags made to flick straight out in hope of a quick fish. 1pm come along and the hooter sounded signalling the start of the match, we flicked our rods out to their respective clips and sat back and put the kettle on. A few hours passed without so much as a beep, however no others had caught so we weren't too worried. We tinkered with a few things when we heard that the first fish had been caught, then another and another. This did put few jitters amongst us, so I decided to change my rigs around from solids to small hinge stiff rigs cast tight to the island. (A little bit too tight as I p
ut the cast up a tree which sucked as it took ages balancing the rig out)
Darkness fell upon us and we still hadn't caught our first fish. I wasn't at all happy with the way I was fishing; it didn't feel right on that spot, when all of a sudden johns alarm let out a one toner and we were on the rod in a split second. After a short battle a small mirror popped his head up and scooped it into the landing. We unhooked the fish popped it into the retainer sling and high fived, we were off and running. The marshals came to weigh the fish and with a couple of photos she was back to her watery home. With brews in hand we sat back and chatted for a short while when his other rod was away. This seemed to be a better fish so he took his time inching the fish back to the bank. 'Get in' we shouted and we were right this was a better one. At 27lbs this now put us in second place and we were buzzing.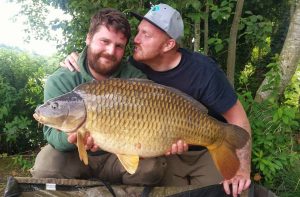 The next morning I decided to move my rods about as my side of the swim seemed lifeless. I tied up a small hinge stiff with a fluoro yellow CR pop up and cast it to a hole in the island. I baited the area with a few handfuls of 14mm CR1 and 2 and jumped back into the sleeping bag. Beeeeeeeeeeep I was in finally, fish netted weighed and photographed a cracking ghosty was slipped back. Fish were now being caught from all around the lake and we slipped back to third place, but john kept us in the game by catching consistently and we regained second. We managed to get within 1lb 4oz of the leaders when something incredible happened, unfortunately not for us. John Cooper one of the leaders bagged an awesome 35.8 mirror but as he was about to do the pictures James his partners rod rips off and after a short battle he had a 35.8 common on the scales. We knew we were now up against it but we still passed on our congratulations to them.
We talked over our options over a cuppa and I decided to tie up some bottom rigs with 14mm CR1 tipped with a bit of plastic corn. I nicked on a small mesh bag of mixed pellets and crumb and cast out to the same hole in the island.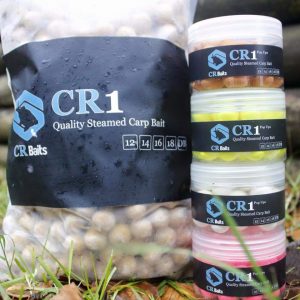 We were 71lbs 4oz behind but we were more determined than ever to get back in this. We were sitting comfortably in second and we knew top 2 qualified so we went all out for the lead.
We constantly re baited the rods and tied up fresh pva bags of pellet and crumbed boilie. Every hour or so we catapulted a small amount of freebies around our rigs, we stayed as busy as possible and started to catch regularly. John was fishing out of skin and was catching some awesome carp included a stunning half linear. Dawn broke and we were up very earlier due to my bottom bait rod rattling off with a cracking mirror which was shortly followed but a small common.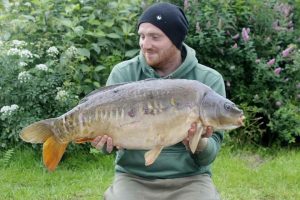 We clawed the lead back and we were shattered, with a few cups of coffee we decided to jump back into our bags for a power hour. The clock was ticking and we edged closer to victory, we slowly started to pack away our gear when the boys across from us we into a fish. We watched closely and eagerly as the marshals weighed their fish, if it was over 18lbs we would slip back into second. Fortunately for us it didn't but however they were only 6oz behind us. We entered the last hour of the competition never has time ticked slower, every minute we check our watches it seemed like time stood still. We noticed the marshals gather together and pick up the hooter, off it went and we finally had won the match. We worked so hard and it all came good as we had come from behind twice to snatch victory by just 6oz. I would like to thank all my sponsors for their continued support in me and also to john who worked his socks off during the match. A special thanks have to go to white springs for running an amazing day ticket fishery.
Until the final…..
Tight lines.
Ethan.