This has been a real quirky one for us to trial as its not what you would expect from a carp blog site or would you???
How many times have you been bankside and you have either ran out of water or the water availability is a rusty old tap in a corner that you don't know where the flow comes from?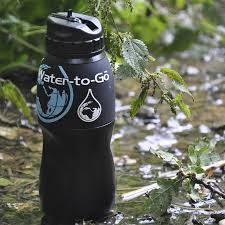 The water to go bottle gets rid of that worry of what's in the water. Each Water-to-Go filter cartridge lasts for 200 litres, or 3 months and can remove up to 99.9% of all the harmful contents of the water. with its scientific and NASA grade filter it gets rid of that worry of what's in that dirty tap and provides bankside fresh water. We have tested this over the last few months and can honestly say we are still here so it must have done something right.
Great in an emergency bankside or perfect for everyday use it eliminates that risk when a cuppa tea just wont do it.