Ade the owner of Vardis Tackle organised the social avent for the team to fish on Stanwick lakes Northamptonshire for a couple of nights, It was a good oppurtunity for some of us to meet for the first time and fish together on Mallard Lake, to get to know each other exchange a few idea's, and for Ade to see the team in action , Tuesday saw most of us meeting and greeting walking the lake and getting set up ready to get some fishing in.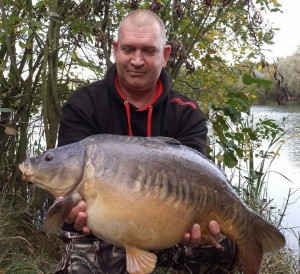 First of the mark was Mike Madeley during the afternoon banking a nice pristine mirror on his trusty go anywhere multi rig using all Vardis components which he later tied for all to see on camera and explained why he chooses this rig, I was lucky enough to get into the corner swim where the south westerly wind was hacking into , bit of a trek with the barrow but worth the walk, I decided being this time of the year plus reading and doing my homework that the fish in Mallard seem to like small bits and pieces baitwise, so I loaded up the swim with a good helping of chops and crushed cell and hybrid as this has done me proud through this year, and also putting a fair bit of hemp, particle and special G pellet, in my opinion the best pellet on the market, unfortunately the bream took more of a liking to it and my first fish was mr bream, so a change of tactic rther than topping up with pellet and particle i switched to just using boilie and only a light scattering around each area, Through the night saw three carp come my way around the mid double mark one going slightly bigger at a guessed weight at around 17 to 18lb.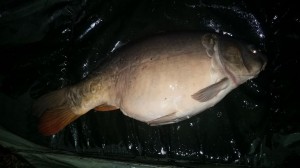 Rigwise I use the Vardis size 4 gripper hooks ultra sharp , tied to the Autumn camou semi stiff skinline with a few small tweaks as I use it as a pop up rig which can be adjusted acordingly , which I had the pleasure to tie this rig for the camera , a very trusty rig with a massive catch rate , Wednesday morning saw another small common come my way , In the swim to my right was Steve allsop who also had one through the night a nice upper double , most of Wednesday saw John Flewin and Steve Allsop doing the rounds and getting some good filming done mainly us guy's tying our chosen rig.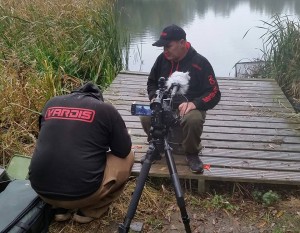 I would say it was like three groups by how we were situated around the lake , the woodend saw Daniel Darren Toby and Graham. Along the road bank and side saw young Charlie and his dad scooba, Ade and Mike, while the far bank saw John Ethan Steve and myself, Wednesday the weather took a turn blowing a cold northerly and persistant rain, which in turn slowed the fishing up a bit, Mike took his second fish of trip wednesday afternoon a nice looking common , good angling as usual from Mike. also young Charlie banked one through the afternoon so good angling from this young man , he's only nine years old but he 's had a few fish which most could only dream off .
wednesday evening the rain let up and Ade rewarded us all with a bankside chinese takeaway which was very welcome, myself John Ethan and Steve were socialising exchanging a few stories and general banter when my alarm decided to spring into life and I was in , The lads set
the camera up and got a bit of footage and a few pictures to round the evening off in style, Thursday morning and it was all over time to pack up for everyone and head home.
I was lucky enough to bank five fish, although it wasnt a competition of any kind, as any one of the team would have bagged up in the same swim that i'm sure off .
Yet again it never ceases to amaze me with carp fishing , a group of guys come together only chatting through social network making friends online then meeting in person where we get the chance to meet in the flesh and its like a instant bonding , I've made some good friends this last couple of days and I'm sure it will continue to grow.
I'm gonna be fishing with a few of the lads at various venues so keep an eye out for Team Vardis and be sure to check out the range of end tackle at www.vardistackle.co.uk and not forgetting the guys at www.catchandrelease.co.uk where you can read some gret blogs from an ever growing team of Anglers sharing there secrets.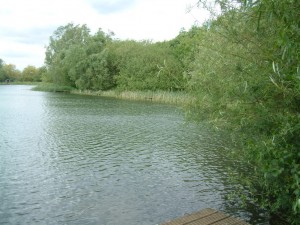 I just want to mention the young lad and his dad fishing elstons lake who where bivvied up just behind me, for a young 13 year old lad who has such a passion for his fishing who spent a fair bit of time in my swim asking questions and watching , we sat and tied a few rigs which i explained why and how i use them , also showed him how and why we do wraps for that accurate fishing every cast ,feeling the lead down etc, this kid was like a sponge he soaked it all up and this was my highlight of the trip, I didnt get his name but hopefully he will add me on FB or instagram and keep me updated on his fishing.
One of the many reasons I love my carp fishing, Until next time boys n girls be lucky and bag a biggie.
PD.