Show Stopper – Dream Maker
This is my 2nd piece for catch but my first as a member of the team. I'd like to start by telling you about a recent roadshow I was working on for then Nash team that turned out to be one to remember. It started off with my arrival to a lake in Devon called "Emperor lakes". This was the chosen venue for the roadshow. It is a yearly event that goes really well. Having had my first coffee with owners Dave and Jo it was time for my walk round the syndicate lake with Dave who had kindly closed it for the team exclusively to fish whilst we were working at the complex. After the walk had finished and id absorbed as much info from Dave as I could I decided on my peg for the next few days and set about getting the rods out. My peg choice was made with a few factors taken into account firstly it's a popular peg that regularly does a fish or two secondly a good friend of mine had also fished the peg whilst on a guest visit and landed a fish so he had an idea of the peg if I needed any info, and thirdly it had a fair bit of water with plenty of known spots to target.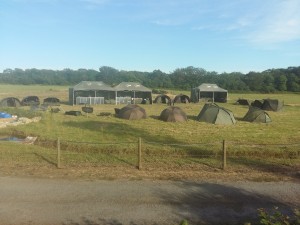 I set all 3 rods on spots that I fancied with 4G freebies around 200 per rod and a citruz white 15mm pop up on a hinge stiff rig.  I tend to choose this rig as it gives perfect presentation every time and with limited time to fish I didn't want to waste any time. Anyhow the evening passed and after a great scran it was time for some shut eye ready for an early start to set the show up. Morning came quickly and before I knew it it was 6.30 and shower time. At around 1 that afternoon I popped back to my peg for lunch and to see if I could see any fish moving about. My hour had passed without a sighting so I tricked a little bait over my spots ready for this evening's assault.
It wasn't long and I was back in my peg setting the trap for the night. I lay on my bed hoping that one of the monsters that reside in there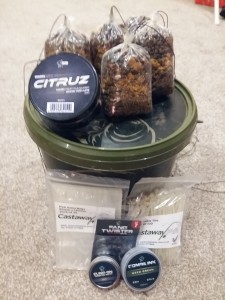 would trip up, but before I knew it id dosed off and when I woke it was morning and another silent night on the sirens. All I was thinking was one more night to make it happen. But firstly it's "SHOWTIME".
It was a very busy day so the time passed really quickly with people steadily arriving throughout the day. Before I knew it I was lakeside for my final night. My tactics for that night were the same as I started out with as I knew the rig and bait catches fish due to the success iv had with it all season on many different venues prior to my visit to emperor. Little did I know what was going to unfold that night / morning? In fact it was a morning dreams are made of. It was a late night that night as we had a bit of a social with the team and some of the emperor team. So it was a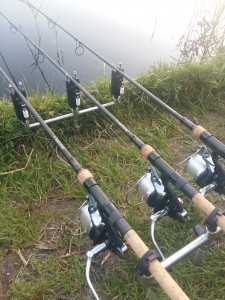 bit of a late one compared to the previous nights. Morning came and I was woken by owner Dave who was 2 pegs down to my left. He was shaking me saying " do you want a cuppa mate " I turned to him and said "Dave its 5.45 and got a show to do in an hour do one lol" he then said with a huge smile on his face " ok do you want to see a 40lb common" and with my tone slightly changed as you can imagine I said "ye man" turned over for a cheeky 5 minutes and as I did I heard "beep" I quickly turned to look at my rods and my left hander was starting to arc round to the left.
I flew outta bed and latched onto a good fish. After giving me the run around for over 20 mins it had gone and buried itself into so e underwater pads I'll be honest with you it was a tense moment I was rocking the rod to see if the line would cut through the stems, but the pressure of losing this fish was too much so I asked Dave to go out in the boat to investigate. Fair play to him he got the fish out and the battle was back on well for a few minutes anyhow as she was back in the same pads. Dave came to the rescue again and she was out but this time it was on I wasn't going to let her bully me especially when Dave put out the shout "I think its no.8" no.8 being a 40+ fish.
She finally slipped over the net cord and I gave out a massive sigh of relief. I turned to my right to shake hands with Steve Briggs who had been watching the battle and it was then that his wife shouted "Steve Steve" he ran back to his peg which was 2 to the right of me. He played in his 4th fish of the session and we all waited for the shout to hear what it was he had caught. He came back over to inform us it was a 35lb mirror. So that a 40lb common in one retainer a 35lb mirror in another and my fish yet to be weighed.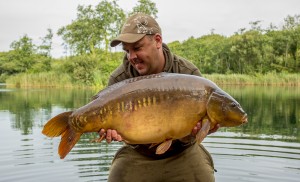 The decision was made to get all the fish to my peg for a team photo, a photo that can only be described as a dream photo. We set everything up and had plenty of pics done with cameras going off all over the place as everybody wanted a memory of this great moment they were witnessing. After all the excitement had died down a little we finally weighed my fish, it wasn't no.8 however it was a half linear weighing in at a very healthy 35.12 the fish in this lake are stunning. Amazing to say the least. To round this journey up I had been on the last few days is I set off for a roadshow and a bit of social fishing and ended up having the roadshow and the social with an end that dreams are made of by witnessing on the last morning a 40lb 35lb and a 35lb 12 oz all being caught within 25 mins of each other and then having them all on the bank at the same time for the pics was incredible.
had a great time with some great people and just fell in love with the place and now I'm fortunate enough to be a member on the syndicate and I'm sure I've got some great times ahead I'm sure.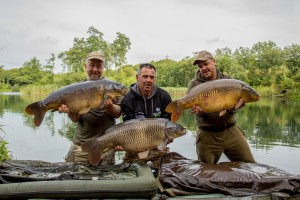 I believe this little read is worthy of its title" SHOW STOPPER- DREAM MAKER " cheers Jc