Show to go
Having got the Sandown show out of the way, I can get some more time in on the park lack. As I had worked all weekend at Sandown I was given two days holiday to use. My birthday weekend was coming up so thought I'd jump at the chance of doing a night after work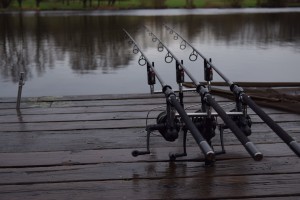 I had everything planned out, well I say planned out, I just decided to keep with what was working for me. I finished work bang on time as usual, the rain was starting to come down but I thought that I wouldn't let it get the better of me. I got to the lake and went for a wonder. I found that there wasn't another soul on the lake which shocked me considering how warm it was. I got into my swim of choice and put the house straight up. I never do this first, I always get the rods out and set first then put the house up but I just wanted to keep everything as dry as I could. 
Once the house was up, I put out 8 spombs of bait straight away to kickstart the session. The rigs of choice were a snowman on the middle and right rod consisting of TG bottom baits and a small 10mm Coconut Creme popup. I seem to do really well on white hookbaits so why change it? On these rigs I threaded on a small PVA stick of TG stick mix which was mixed with the matching liquid to pump attraction into the swim. The two rods went out without a hitch and I was confident, I followed this by two more spombs of boilies. The left rod was just fired out into the lake which I left as a single hoping to pick off a bonus fish.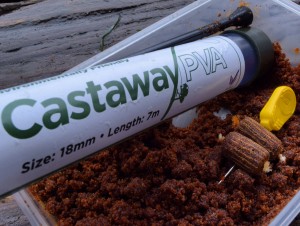 The rain had set in for quite some time so the stove was fired up and a few cups of tea later, low and behold… It was still raining. As the night drew on the rain had a little lull, interestingly during this lull the middle rod ripped off and I was into my first fish. I managed to glide the net under a pristine 12lb+ Common. I got the fish in the retainer so that I could utilise my time and get the rod straight back out. Another bag was soon repositioned back on the spot. After every fish, a general rule for me is I put another 5 spombs of bait over the top just to top up on what's already out there. 
Another cuppa later and this time the right hander was away.
A short battle and I soon had a 16lb 5oz Common in the retainer waiting to have its picture taken.
The same again a top up on bait and the rig repositioned. Thankfully the rain had finally stopped so that I could get everything sorted as it was all piled in the brolly in a bit of a rush. After a while of watching the water, I saw a couple of fish show and I was quietly confident that I would have another. 
The rest of the evening was uneventful. A few subtle liners but nothing to show. My alarm was set for 6:30 which I was soon awake and putting the kettle on for a much needed coffee. As I am sat with my eyes glued to the water the middle rod peeled off. A spirited fight and I had fish number three in the net. By this point I was buzzing, gliding the net under another fish, perfect conditions and barely cold everything was finally going right. This fish was another mid double. Photographs taken and the fish was back to fight another day.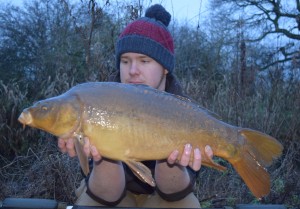 It seemed to work really well being able to get the fish in the net and unhooked, in the retainer for 5-10 minutes until I got the rigs sorted out. It use to take forever by doing all the pictures etc and then getting the rigs out but this worked quite well. 
Time was getting on. I stood and spoke to a few anglers and passers by of which were interested in what I was doing/how I was getting in.
I was just about to put the rods on the floor to pack down the rest of my gear when the left hand rod with a hinged stiff peeled off as I picked it up.
I was in shock, this fish definitely put up a good account of itself. She was soon in the net and it was evident that she was a better fish. I picked up the net and looked and she was definitely bigger than the others. I took more time with this one as this rod was going to be the first rod to come in. She was straight up on the scaled which spun round to 19lb 12oz. I was more or less grinning from ear to ear. The weather was far from warm during the latter part of the morning but gliding the net under a better fish definitely made it worth while that's for sure. Having put this rod out on a completely different method, I was sure it may or may not pick up a better fish. This was my first fish on the Key Pastel popups, this one in particular was on a pink popup. 
Having used the camera for the other fish, the camera battery was flat. A massive coincidence to be honest. I stood on the track and waited for a passer by to see if they could do the pictures for me. A nice gentleman came past and was more than happy to do pictures for me. He was amazed by the size of it. He was even more surprised when I said there was bigger. I really can't thank him enough for doing some pictures for me. It turns out he was an angler anyway little did I know!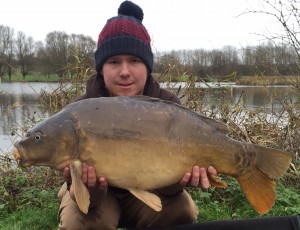 With all the gear on the barrow, I slowly trudged back to the car through the flooded and muddy track and loaded the car and I was on my way. I then went off home with a grin on my face reflecting on the session I had just left behind. 
Until next time,