It was a Monday morning the van had its first frost on the windscreen, driving to the lake I could see it was going to be a cloudy day. The temperatures were not going to much more than 10 degrees. I arrived in to an empty car park at 5:45am, my gut was saying to me the carp were going to be in the slightly deeper water than where they have been of late. It was a swim I hadn't fished for a few seasons but knew I where the spots were.
As I was carrying the tackle to the swim I heard a fish crash out, it was the swim to my right. I decided to stay in my chosen swim. A good friend was joining me on this day session so I text him to say where I was and what I had heard, he text back minutes later saying he was on his way round. My usual approach was taken 7 inch combi rigs baited with 16mm Vor-Tex bottom baits tipped with a 14mm white pop up.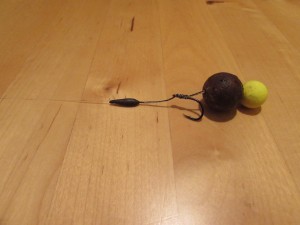 The other rod the same apart from the pop up was a pink one both in the same flavour. The rods were cast out to the spots first time and 20 freebies placed over each rod. 4 ½ hrs passed and not so much as a bleep the only thing I had seen were the odd bubbles coming up to the the left rod area but a good 4ft away.
I decided a new approach was needed so I changed the pink pop up to a yellow one, and I put around a kilo of freebies over the top too to bring in the fish. An hour had past and I could see bubbles coming up over the heavily baited spot, the delkim sending out the odd bleep too. 15 minutes later the bobbin was slowly lifting up and held up tight against the butt of the rod. I lifted into to it and it felt a decent fish plodding slowly around and staying deep in the water. Suddenly the fish decided to kite to the right around the back of some pads, keeping a good bend in the rod and luckily the pads were thinning out the fish came through and it was netted very shortly afterwards. It was the mosaic common a fish I hadn't caught before and it looked a decent size after getting everything wet and zeroed the fish went 24lb a few pictures were taken of both sides and it was slipped back. I packed away shortly afterwards but my friend glen managed to land a 22lb common during that night using the same tactics I used to catch my fish.