After losing someone who means the world to me on the 19th of April, I decided a short evenings fishing would be a good place to clear my mind. A small lake where I do a lot of floater fishing, none other than Chestnut Pool. Somewhere I can go and know I will get a bite. The fish aren't massive by any stretch but in amongst the smaller fish there are some decent ones to be had. Floater fishing as mentioned time and time again is my favourite style of fishing, anywhere I go.
I tried floaters on chestnut a few days ago but the weather just wasn't right for it, a cooler wind and not much heat to get them up in the higher layers. Having said that, ten minutes of being there I lost one straight away on a single zig. With the great stock in this particular lake, they get competing really quickly. A little and often approach was taken. The sound of the mixers hitting the surface attracted them in pretty quickly.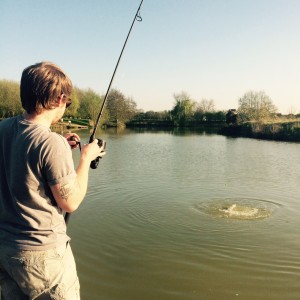 For the first twenty minutes I ended up feeding off the ducklings, geese and gulls but the carp were still barging them out the way. Having fed a kilo of mixers, they were soon competing. Using a sticky sharp Excalibur hook, they weren't getting away with it that easily. Having cast the small bubble float and imitation mixer, I wasn't waiting long before I was into the first of the session. After I had net the fish, I'd fire a few more pouches out to keep them there, even after hooking one and the big eruption caused, the fish still come back and commence feeding once again.
A few fish later, I was playing something a bit more solid and could tell it was a better fish, staying deep and making ravenous surging runs he was soon in the net. A small stumpy common of around 15-16lb was soon residing in the cradle awaiting pictures. The action was continuous for a couple of hours. I ended up on 8 fish in two and a bit hours. It just goes to show, you don't have to go out for a whole day to catch fish, so long as you know what you are doing or intend on doing you can't be far wrong from a bite or two. I know a lot of speculation goes into fishing high stocked commercial waters but I find it a good way to break up a duck run so's to speak. I was using simple but admittedly unconventional tactics especially with 15lb mainline. The more conventional business end being a bubble style float, 10lb hook link and a size eight Excalibur hook which was sticky sharp. Some of the hook holds were amazing. One of them was hooked near enough by the pharyngeal teeth.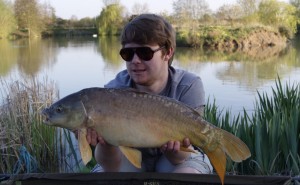 A good few hours fishing helped to clear my mind, or take my mind off things for a few hours, certainly doing something that I love. I'm sure many of you would agree when I say if you have a deep passion for angling, when times are hard simply being there is enough and catching them is so much better.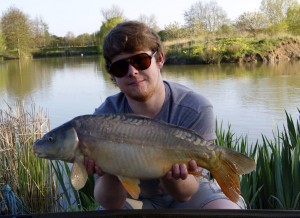 I have since acquired a few new consortium tickets for my local area, even though I say this a lot, I shall be fishing a few of the lakes with a friend of mine over the coming months and possibly through the winter, when the numbers of anglers diminish. But anyway, let's not talk about winter yet as I will be making the most of my spring/summers fishing.
Hope you've all been having a few,
Bag a chunk for me.