Fishing in Cambridgeshire my way.
Hi everyone, well you could say I've been a bit on the quite side of late, but I can assure you all I've been very busy on the fishing front.
So I would like to share with you all on my approach to a new water I started on earlier this year.
It was early March this year, that I was thinking of starting a fresh campaign on one of the other lakes on the complex, two reasons… one, the fish in there are just something else, going up to around the mid 40 mark, plus even a few of the smaller ones are truly stunning in this typical big weedy Cambridgeshire lake.
Secondly I was fishing the front pit this last couple of years and to be honest, without blowing my own trumpet I think I worked the lake out quite quickly especially last year when I switched bait companies and went on to Mainline Cell & Hybrid mixed, it just made so much of a difference. I was told a couple of years ago that this lake was very tricky and at only 3 acres in size, the fish had seen it all and just don't give themselves up easily, well I started catching them quite easily anywhere between four and seven fish a night, and by early this year I just didn't see it as a challenge.
Now the big lake is a totally different ball game, It's very wide and open plus it gets very weedy and the tench are a total nightmare, there are literally hundreds of them to keep you awake at night.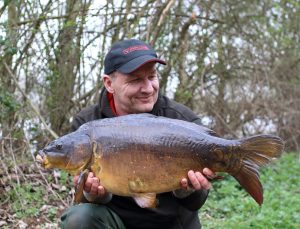 So after walking around a few times looking for signs or likely areas, I then decided after talking to a few good friends who have previously fished it, that a good baiting campaign was the way forward, so bearing in mind the tench and the weed, I would use a lot of particle with my boilies which I chopped crushed and whole ones.
So the first Sunday night I decided to fish it, after finding a likely area I put a fair bit of bait in to fish over, I must have put in around 10kg of mixed particle and boilie, which the tench took a liking to as by the morning I had three or four tench plus a couple of low double stockies, so as strange as it seemed I was quite happy with that result as we all know if the tench and small carp can find and feast on it then the bigger ones can to, so Monday morning came around and it was time to pack up put a bit more bait and leave for home, then came this mad idea that I would do a Wednesday night as well, so Wednesday came and straight from work lakebound, thinking on how I was going to hit it.
I decided I would put just a sprinkling of boilies in on a Wednesday then bait heavy Thursday morning before leaving for work.
So this pattern happened for around three weeks and still the tench came as well as a few stockies, some really pretty little fish for the future.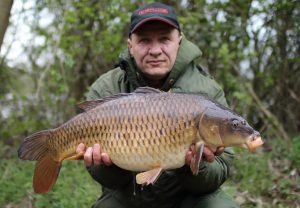 It was on the fourth Sunday night that I felt quite confident as for the first time I saw fish rolling over the areas, the tench where starting to frustrate me as they where really active, and where stealing the bait like crazy, I think I had five tench that night but determined not to be beaten each time I got the rods back out regardless of the time, it was early morning just breaking daylight when one of the rods ripped off, a totally different take to any of the others, and after a really good battle I slipped the net under a 22lb dark little common, so that made me happy .
Plus a couple more stockies that night so it was certainly a very active night, and somehow I felt had the tench not have kept grabbing the bait I would have probably caught something a bit bigger as they were showing in the area.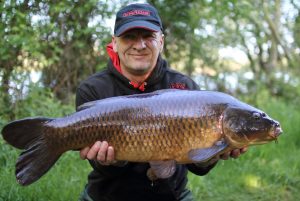 Well another Wednesday came and went with tench and stockies, and more bait going in, and as hard as it was going , with driving eighty miles round trip twice a week plus the broken sleep and very busy work schedule, I was kind of in auto pilot, bait fish bait fish and so on.
Well it was bank holiday weekend and knowing it would be busy I thought I would take a drive down on the Sunday and if I could get in the area then I would fish.
I was in luck as the swim wasn't taken even though the lake was the busiest I had seen it, so I settled in and got the rods out on the spots and just sat by the edge looking for any signs, I felt the fish would hold up in the middle of the lake out of the way, as there is a 120m casting distance enforced on the lake and with the lake at close to 400 yds across it puts the middle out of bounds, and the fish do use this as a sanctuary at times.
Evening came and it was very strange as I hadn't had a single bleep, not even a tench had made an appearance, I just put it down to how busy the lake was and just before dark I saw one single show, what looked like a descent fish, so I went to bed with mixed feelings to be honest, nothing through the night, very quite indeed.
Early morning just starting to break light when one of my rods went into meltdown and this time it was a very different take and as soon as I felt into the fish I knew it was a descent one as it just pulled hard all the way in, and even took itself into a read bed to my left which was quite scary as it all just came to a stop and I couldn't do anything about it, I even put the rod down on the rest for a good ten minutes and made a cup of tea while all the time preying it would swim out, so I sat on a bait bucket rod in one hand tea in the other clutch set loose , another five minutes went by when the clutch just starting clicking and I watch the line slowly moving out of the reeds and back into open water, so I just pulled it round in front of me and got my first glimpse of what I had hooked out there and straight away I knew it was one of two fish and over 40lb, So in the net and I couldn't believe it one of the A team and early into the campaign to.
On the scales it went 43lb 10oz so all the hard work had finally paid off
A few texts to a very select few to let them know, and of course arrangements to photograph the prize for me, My girlfriend, Nikki, plus a close friend
Jerry Clayton drove out to help with pictures, this was at half five in the morning I would like to add, plus another good friend Mark Hogg who was also fishing on the complex came round to do camera duties, So a public thank you goes out to them..
The following week on the midweek session arriving at the lake it was very quite which was to my liking. Now this next part is quite bizarre as I was talking to one of the old guys who has fished here for a while was telling me of a mid 30lb leather an absolute stunner of a fish, and certainly one I hadn't seen or even knew existed, as a friend of mine has managed to send me a lot of pictures of all the main contenders in the lake and even he hadn't heard of this big leather, well you've probably guessed by now, it was early morning again and same rod has ripped off just like the previous week, although this time I made sure I steered it well away from the reeds and after a good fifteen minutes battle I saw it in front, and my first thought was… nice a descent looking mirror, and it wasn't until I got it on the unhooking mat that it dawned on me this is the leather we was talking about, crazy what are the chances of that.
Weighing in 36lb 10oz I was grinning like a Cheshire cat as I've never had the pleasure of a big old leather in my portfolio, so a few more texts went out and as it was a work day, I was lucky enough to get my Son Andrew Dennis to come and do the photo's for me, so while I was waiting for him to drive down to the lake I thought best get everything packed away ready as It was going to be pushing it for getting to work on time.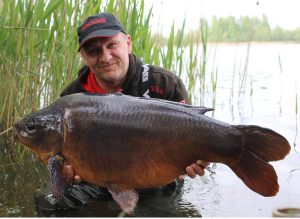 I would just like to mention that during the month of May I had some good fortune by being given the opportunity to join Mainline baits, which will of course make a massive difference as well. From when I started in March up to current time, I have put in somewhere around seventy kg of bait including particles and was feeling excited that the plan was working well by this stage, but like most good things, unfortunately the word had got out that I was catching a couple and one Monday morning I was doing my usual baiting up before I went home, when I noticed a guy watching me just as I was finishing up and to be honest when he told me he was moving into the swim I was speechless, never would I or could I do that to another angler, trying to catch fish of someone else's back just isn't fishing in my book, and to boot he has joined forces with another guy to fish it which has kept me from fishing the area regular which in turn has made it a whole lot harder for me, but I won't let this stop me as I have now adopted another approach which hopefully I can share with you later in the year should it pay off that.
Well hope you enjoy the read and who knows maybe I'll see some of you on the bank sometime.
Until next time.
P.D.