Summer is here and it's time to get Ziggy!!
With the warmer months upon us (allegedly!) now's a great time to be using Zig rigs and surface fishing is at its best. Avid carp have a whole host of products (some old, some new) that will make it all that much easier and hopefully get a few more carp on the mat.
Zig clips
Designed to instantly dump the lead on the take the zig clip is a must when fishing long hooklinks. If you've ever played a fish on a 4 foot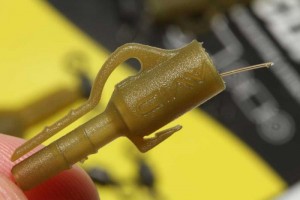 plus zig without dropping the lead you'll know exactly what I'm talking about….scary!! The zig clip has a tag on the back of it so that the angler can pva tape around the clip, holding the lead in place for the cast and removing the need for a tail rubber, hence making it very easy for the lead to discharge…..simple but very effective.
Zig Grubs
Zig Grubs have been designed to help imitate a natural grub rising in the water. They come in two colours, black and yellow and have a pre drilled hole through the middle to aid easy threading.
Zig-Lites
Zig-Lites are a range of highly buoyant foam hook baits, available in a variety of colours and two shapes, round and dumbbell. There are also two tone Zig-Lites that work on the basis that black is seen better from beneath the hookbait and hi-viz is better viewed from above, maximising the chances of the carp seeing it.
Reflo Two-Tone Zig Line
The newest of all the Avid Carp products is the Reflo Two-Tone Zig-Line. It is, as the name suggests, two tone in colour plus anti kink. So it gives perfect, unhindered zig presentation to help catch those mid-water carp without spooking them. Don't just use it for zig fishing either, it makes a great bottom bait hooklink, I know anglers that have used it to great effect for barbell fishing.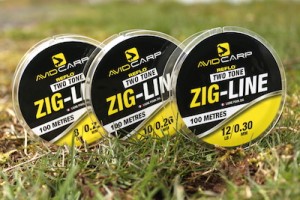 Reaction Hooks
Over the last year the Reaction hooks range has proved time and time again that it has a hook for every type of fishing situation. Whether it be a bottom bait, pop-up or a zig rig. The two patterns that lend themselves towards the latter are the CRV (curved) and the WGP (wide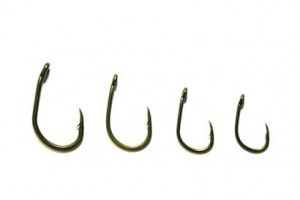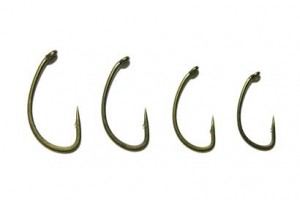 gape) available in sizes 4-10 in barbed and barbless. There is 12 hooks per pack instead of the usual 10 which many people choose to overlook when seeing the price. They all come in an anti-glare green and are sticky sharp straight from the packet, which is always a must no matter the application.
DS Distance leads
Another new product for 2015 is the DS distance leads. They come in the heavier weights and sport a rear flight to help keep the trajectory during the cast straighter with less wobble, vital to get those extra few yards when the fish are showing at range.
Anti-tangle sleeves
With a long hooklink there is always the worry of it tangling in flight. The Avid carp anti-tangle sleeves help this by pushing it away from the lead arrangement plus they come with a quick change swivel to help the angler change between depths more quickly.
Zig Box
If you are going out for an all-out zig session the last thing you want to be doing is tying rigs on the bank. The Avid zig box stores up to 16 tied rigs and comes with sticky labels to identify depth, hook size, breaking strain etc. There are also spare spools available to buy separately should you require more.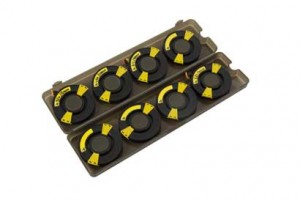 Ready Tied Zig Rig Kits
If it's all too much bother and time-consuming these ready-tied Zig rig kits contain everything you need to start Zigging. There's a perfectly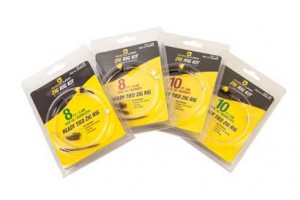 tied Zig rig, a Zig Clip and a Tail Rubber. The rig boasts a size 10 WDG hook which has a Zig Grub on the eye to improve hooking potential and add visual attraction. Knowing that yellow and black are two of the most popular colours for fishing in the upper layers, there's a Black/Yellow Zig Lite already attached to the rig. The rigs have been tied using top-quality materials that won't let you down. Available in 8ft or 11ft lengths in barbed or barbless.