Winter time which see many anglers packing away there fishing tackle till the Spring, where as the rest of us keep on plugging away right through the colder weather, some of us are lucky enough to catch the what I call the picture of all pictures, and that's catching a carp in the snow, others myself included are still chasing this dream, I think fishing through the winter is sometimes better than the summer as it see the banks a lot less busy, and then it comes down to what do we want from our fishing , some carry on chasing the dream on hard waters praying for a big lump to trip up as this makes the long cold nights all worthwhile , some lakes just don't have winter form so for this reason it's sometimes better to find a lake which has a good chance to get a bite and keep the brain ticking over.
Myself well the syndicate I fish on just doesn't do it in the winter so for me to sit there behind motionless bobbins just seems a bit to daunting , a few of my good friends have tried it and a full blank winter , my hat goes off to them for sitting it out , total respect .
I'm lucky enough to be based around the Cambs/Norfolk border so the choice to find a lake with a bit of winter form is quite easy to find, plus I get to see a few faces , other guys who are doing the same as me . getting a bend in the rod ,and not always a big fish but still rewarding none the less.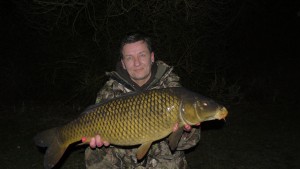 A nice upper double caught in near freezing conditions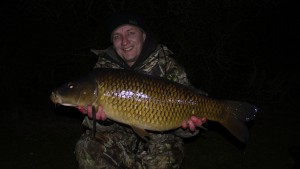 And another one , keeps the smile going on a cold night .
Baitwise depending on conditions I usually keep it fairly tight and not to over do it , I usually like to use maggots and boilie crumb with a bright pop up over top, as I'm only fishing for one bite at a time , rigwise… nothing special as on the lake I'm fishing there's dead weed present so a stiff hinge rig works well.
Nailed on a stiff hinge rig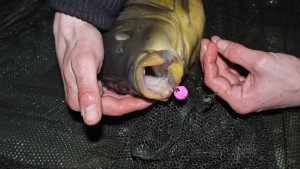 Obviously trying to find the fish in winter is sometimes a challenge in its self , so sometimes you have to go on gut feelings or even ask other anglers on the lake if you haven't fished the venue before or just keeping your eyes peeled for small signs of fish present, its all about maximising your chances of being successful , and if you can get out fairly regular in the winter you can sometimes work out the pattern of when is a good time for a bite which can also be a great advantage on these cold winter nights.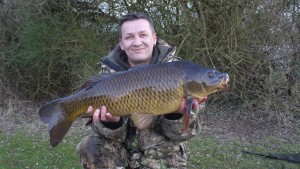 My local winter haunt is known for a mid afternoon bite and also in the evening just after dark, and as for hookbait I do like a high attract bait, which I usually prepare around September time getting them soaked ready for the cold weather with my favourite bait soak . Winter fishing for me is not about catching that big one , it's just getting out there usually catching up with a few mates for a winter social or two, exchanging stories of what we have been up to through the better weather talking of the new year plans all adds to the occasion of fishing the colder weather.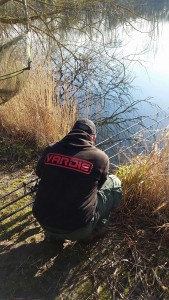 And always make sure you have the right gear for the winter , a good sleeping system which will keep you warm through the night and get them thermals on , as if you are getting cold then that's when the enjoyment starts to fade.
So there is a summary of my winter fishing, and if you haven't been out there yet , then let me recommend you do so, get a couple of mates together and enjoy what the cold weather has to offer , it's a totally different story to the rest of the year, but it seems that there is always great memories made through fishing the winter.
Be lucky.
PD