This has been a place where I've been wanting to fish for a good few years and by chance I bumped into a couple of good friends in our local tackle shop who were stocking up on bait , asking "where are you boys of to?" they replied Abbey.
Jokingly I said thanks for the invite, to which they both replied "come with us".
So after a few texts and a phone call to Abbey to check if I could get on the lake for a week, it all worked out. However I had to do a night on Kingfisher Lake then the rest of the week I could go on Fox. Kingfisher didn't do it for me at all, but next morning with a quick wander round Fox I soon found a group of fish in front of peg 13 which is a nice bay and I couldn't believe it was empty as the fish were certainlt not shy showing themselves. So I emptied the van and set a couple of rods up and got them out while I was setting up base, and half hour later my left hand rod was away and after ten minutes it was in the net, weighed in at 32lb 4oz of fine Abbey lakes mirror carp, so pressure of as I had caught one no blank for me.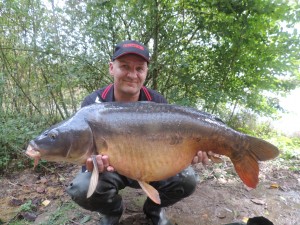 My good mate Gary came round and done the pics for me which was a bit of a trek as he was with his dad over on Heron lake.
Anyway camp was all set up and all 3 rods where out, so time for a relaxing cuppa and to watch the water for a while. Another hour passed and my middle rod was away,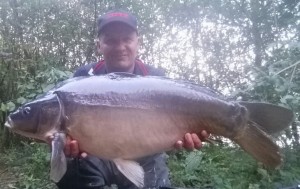 another good battle resulted in another pretty mirror in the net, this one weighed in at 27lb so I messed around with my phone and thought I would try a selfie as I didn't want to disturb Gary again and I was round the back of Fox with no one close enough to do the honours.
Bit hazy but good enough. Into darkness and an early night was in order so kettle on quick brew and sleep,  around midnight my middle rod was off again, another good fight which saw me win again , number three in the net, now trying to do a phone selfie in the dark, half asleep maybe isn't the greatest idea as the picture shows, 29lb and another mirror.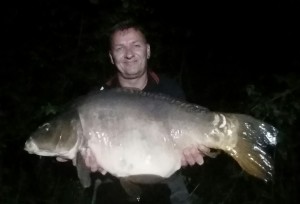 So Monday morning, three fish in the net. Well pleased with this, rigs were spot on hook holds were deep bottom lip hooked on all three fish, rigwise nothing fancy, Vardis 25lb semi stiff Autumn camou downfall hook link , Vardis size 4 gripper hook over weighted down with putty, milky toffee pop ups on two and plastic corn on the other as the crayfish are a bit of a problem
not everyones choice for a pop up rig but trust me these really do grab hold especially with the gripper hook which are ultra sharp, and I am fussy when tying rigs attention to detail and all that.
Monday I saw the fish moving along the main part of the lake and what turned out to be a stupid move I packed down and moved round, only to see the fish later that day move back into the bay. Tuesday I was on the move again and back into the bay. By Wednesday, two days with no fish on the bank saw a bit of frustration setting in and to rub salt in the wound I hooked and lost one in the bay, which was my own fault .
By wednesday afternoon the wind had turned and was blowing a southerly straight down the main body of the lake, so another move was on the cards. I was off down the other end into peg one. I did watch the water for a while just to be sure I was doing the right thing, the fish were already there showing  themselves, so i moved onto the fish. Within an hour of getting the rods out I was in and another nice mirror in the net, this one going 34lb 4oz.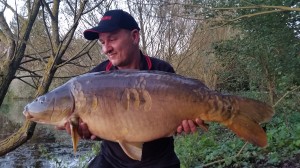 The move payed off as no sooner had I got the rod back out it was away again, unfortunately I lost it in the weed down the right side in the margin, but at least I was getting action, this happened two more times throughout my stay in this swim and as hard as it is losing fish, my confidence was sky high as I just thought "oh well another will surely come along". It did Friday an absolute single toner on my far left rod which was out in the deeper open water tight to a weed bed, these Abbey fish really do put up a good battle and after fifteen minutes it was all mine in the net, another lovely looking mirror and a good size to, weighed in at 42lb 4oz.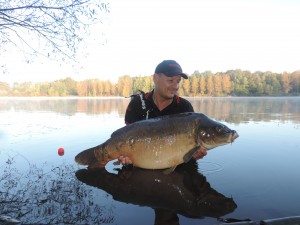 Yet again the Vardis gripper hooks and hooklink  doing the job, so much confidence in these products.
Note the shrink tube to give it that aggresive angle and stripped back half an inch just to pop it up close to bottom.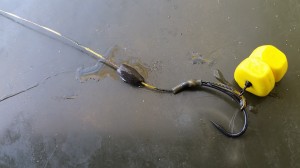 These stunning mirrors still kept coming this one 29lb 4oz a couple of hours after the 42lber. On a bit of a roll now but the weekend was looming closer.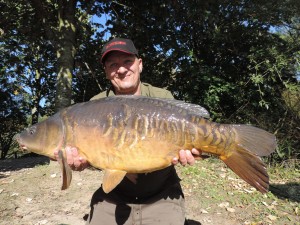 Friday came around fast, so it was all out assault to try and catch another one before we had to pack up at 5.30am to make our way home.
I was resting the swim through the afternoon and just putting a bit of bait in to get them feeding without a line in the water which seemed to do well. By four oclock in the afternoon all three rods were back on the spots, time for a bite to eat and a slow pack down ready for the morning. The evening was quite uneventful with a bit of bother from the crayfish, these are a real nightmare on Fox Lake and have a liking for putty and tail rubbers they were even chewing plastic bait, hence the reason for piling plenty of bait in to try and keep them away from the hookbait.  Time was getting on and I needed to get some sleep ready for the early call. 1am single toner on the left rod again and finally I have a common in the net, 34lb 2oz.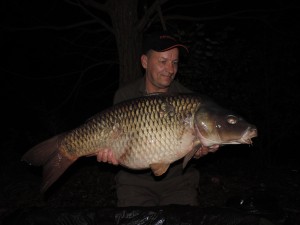 5.30am wake up call came a bit to soon but thats how it goes, we all hate the packing away. I reeled in my right rod only to see I had been totally wiped out by ronnie and reggie (Crayfish).  I just finished putting the rod in the holdall when my middle rod was away, don't you just love it
when you are packing down and one roars off? My last fish another mirror .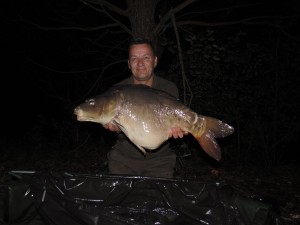 All in all a great week , and just goes to show if you are prepared to get up and follow the fish you can catch them. Would I have done anything different? Maybe I would which is why I feel  i will be going back to Abbey again. I've used this trip as a learning curve and next time hopefully I can fine tune my fishing and catch a few more and hopefully one of the A team . I must thank my good mates Gary Dorman and his Dad Steve Dorman as if it hadn't been for them I wouldnt have gone, even if they were pinching my gripper hooks…
Here is Gary with a stunning Heron Lake 40lb mint mirror caught on a size 4 vardis gripper hook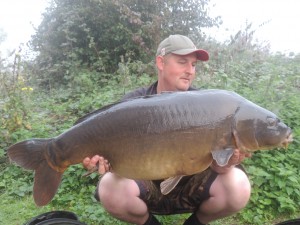 Until my next adventure I hope you enjoyed reading this.